Spring is the time a well-deserved refresh. As we transition from the long winter into the warmer season we seek to feel the difference in our home, too. Who doesn't want to ease into spring with a clean and spotless home? However, how many of us actually look forward to performing a time-consuming spring clean in our homes?  If you were secretly making excuses for delaying or postponing a spring clean, you can now rest assured: you're not alone!
Earlier this year, we conducted a series of interviews around Europe asking people how they felt about spring cleaning, and we've identified the four most popular cleaning excuses and the types of people making them.
Who: The people who are mostly looking forward to social activities with friends. They'll be the first to grab a table outside on the bar's terrace, balcony, or garden for their entourage. Spring cleaning isn't a popular topic within this group. Take John, who prefers brunching to spending time cleaning his flat. Over in Berlin, Gill is looking forward to getting his garden ready for spring to catch up with friends in a beautiful environment.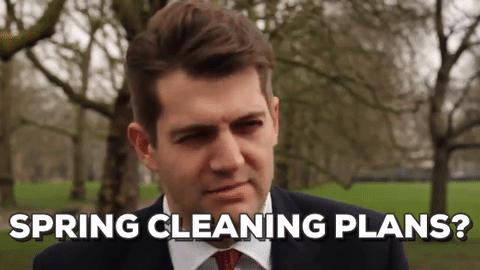 Their excuse: Meeting with friends, of course. The Spring Socials spend their time glued to the phone, expecting their friends to confirm a place and time for a gathering. They're out of the house so much, spring cleaning is almost completely forgotten about. Until the next morning, when the spring socials decide it's time for a home refresh and pick up a sponge only to drop it the second they get a text from their friends.
Who: You'll spot this type of person straight away on the street; when the first ray of sunshine hits the pavement, they'll get their sandals out and put their shades on. Spring for the fashionistas is a chance to re-discover forgotten clothes. It feels like shopping, just without breaking the bank! They're the ones who enjoy the switch from a heavy, wooly wardrobe, to a fresher, lighter and more colourful spring wardrobe. So embrace spring and "Take all these layers off!" just like Helene, in Berlin.
Their Excuse: Focusing too much on overhauling their closet and forgetting to clean the other areas of the house. Spring trends on a tight budget is their life motto, so these fashionistas will spend hours decluttering, tidying up, and rearranging their closet to fit with their spring wardrobe. When they're done, they realise they long for the feeling of relief you get when the entire house is as clean as their closets.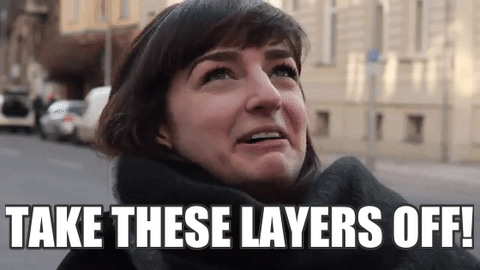 Enough excuses? Check the availability of cleaners in your area
Who: They're cleaning aficionados and are not afraid to admit it. They're showy cleaners who get excited when the kitchen is sparkling again after cooking a feast. They're the ones who provide a glossy, superficial clean, but avoid putting in the effort for a more sustainable, in-depth one. Working mom and tidy-up fan Stephanie shares cleaning duties with her husband Wes – she's managing the kitchen, while he's out sorting their garage. She admits it takes her ages to get things done due to procrastinating and focusing on smaller tasks inside the kitchen.
Their excuse: This type would rather spend more time on easy cleaning tasks that give the impression of a spotless home. They love the rewarding feeling of a tidy-up and will avoid any thorough cleaning tasks.
The Spring Fitness Fanatics
Who: As you're sipping your morning coffee in the comfort of your home, this type of spring fitness fanatic will be working on breaking a new running record. You'll find them transforming the park into their personal outdoor gym. Forget about heavy weights, dumbbells, or heavy machines: they'll sweat just by doing body-weight exercises or much-beloved team sports. Basketball fan Jon, for instance, admitted he can't wait to play a game with his friends on an open court.
The excuse: Too busy working on their fitness to focus on cleaning. Preparing their gear for an outdoor workout is a ritual they keep religiously. Prepping food and researching workout ideas takes up plenty of their time and cleaning simply isn't an attractive workout for the spring fitness fanatics. Their motto is: embrace your fitness, not the cleaning!
Discover all the brutally honest answers in our video filmed on the streets of London!
While it's fun listening to excuses, the truth is you don't need them. Enjoy a spotless home and your personal spring time, all at once.
Simply put in your postal code to find your reliable, local cleaner at Helpling!
Time for Spring! Not cleaning.
Comments
comments